Scrubber
ODOUR, FUME & PARTICULATE CONTROL


---
The dynamic scrubber represents the best that is available in scrubber technology today. On every point dynamic meets or exceeds most industry requirements. dynamic has been around and in the forefront of scrubber technology for almost 20 years. We offer you attractive, functional, long lasting, quality scrubbers complete with ducting, fans and stacks.
The dynamic fume scrubber range was initially designed and developed in England for a wide range of industries for acid and toxic fume control, odour control, collection of fine particles etc. The designs were introduced into Australia approximately 20 years ago and the well proven principles have been adapted to Australian industry conditions. The range of sizes cover the small built-in units for fume cupboards to huge industrial units.
Manufacture is from corrosion resistant uPVC or polypropylene. They can show scrubbing efficiencies of up to 99% in many applications when treated water is used in combination with a recirculating system.
The principle of operation is the moving of contaminated air slowly through a packed bed (usually pall rings, tellerettes or polypropylene mesh, etc.) whilst treated water is saturation sprayed over the millions of impingement opportunities within the packed bed. Water is sprayed, via a magnetic pump, through a series of nozzles so placed as to provide 100% saturation. The violent air turbulence induced by the packed bed ensures that the air is "scrubbed" clean. Water elimination from the exhaust air is achieved in the mist eliminator section by means of extruded PVC or PP mist eliminator blades or polypropylene mesh.
The system can be of either horizontal or vertical configuration. Selection usually depends on available space (floor space & head room), wind factors if roof mounted, etc. There is a unit to suit every application. Maintenance is easy and the frequency depends of the level of contaminates being collected.
HORIZONTAL - ADVANTAGES



Low head room; suitable for many plant rooms.


Low profile for roof mounting to resist wind loadings.


Simple installation.


Easy pump and nozzle access.


Lends itself to 2 & 3 stage scrubbing for greater control for some difficult circumstances.
| | | | | |
| --- | --- | --- | --- | --- |
| MODEL # | CAPACITY | BODY SIZE | HEIGHT | LENGTH |
| SCH3 | 250 L/s | 300 x 300 | 800 | 1200 |
| SCH4 | 450 | 400 x 400 | 850 | 1300 |
| SCH5 | 700 | 500 x 500 | 900 | 1400 |
| SCH6 | 1000 | 600 x 600 | 1000 | 1550 |
| SCH7 | 1400 | 700 x 700 | 1100 | 1700 |
| SCH8 | 1800 | 800 x 800 | 1200 | 1900 |
| SCH9 | 2250 | 900 x 900 | 1300 | 2300 |
| SCH10 | 2800 | 1000 x 1000 | 1400 | 2500 |
VERTICAL - ADVANTAGES



Ideal where floor space is at a premium.


Can be adaoted to fit fume cupboards.


Usually involves less ducting and simpler installation.


Easy pump and nozzle access.
MODEL #

CAPACITY

BODY SIZE

HEIGHT

SCV3

250 L/s

300 x 300

1500

SCV4

450

400 x 400

1500

SCV5

700

500 x 500

1500

SCV6

1000

600 x 600

1800

SCV7

1400

700 x 700

2000

SCV8

1800

800 x 800

2000

SCV9

2250

900 x 900

2300

SCV10

2800

1000 x 1000

2500

All dimensions in mm and are approximate only.

CAPACITIES UP TO 10,000 L/S if required.
---
DYNAMICS has the expertise and experience to design, build and install the right equipment to collect, control, clean (if necessary) and exhaust the toxic, dangerous and obnoxious fumes that cause so many problems for people, buildings and the environment.
Collection hoods or manifolds are designed to suit specific tanks, equipment, machinery or operations will have a "push-pull" air flow, where practicable, to provide for smaller exhaust fans with lower power consumption and yet provide a more efficient fume collection.
Design factors must include the location with the effect of cross drafts and the effect of equipment, product and manpower movement, all of which will affect the air velocity requirements for total entrapment of the fumes. See page 2 for come schematic arrangements of total installations incorporating scrubbers or dry filters and fans.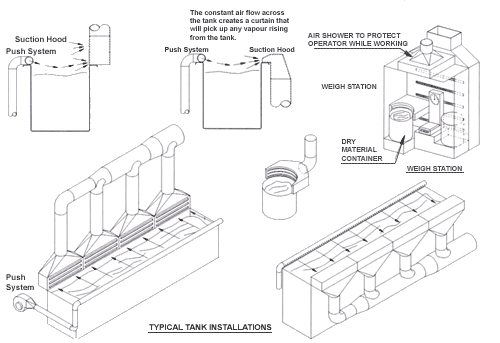 With the DYNAMICS experience and expertise we now need only to put together elements of the system, i.e. the collection of hoods; the air "push" system; the duct; the scrubber or filter and the fan.
The size of the system does not matter; the same DYNAMIC care goes into a simple single work station as into a complete and complex total plant installation.
See separate sheet data sheets on fans, scrubbers, ducting and hoods. All these items can work in concert to provide a safe and secure environment for employees; a clean, green discharge into the environment.
We work only in plastics (PVC, polypropylene, polyethylene, fiber glass etc. etc.) to control the emissions that steel and often stainless steel cannot handle.
- CLEAN ROOMS
- FILLING OPERATIONS
- UNUSUAL SITUATIONS
- LABORATORY WORK STATIONS
- MIXING OPERATIONS
- WEIGHING & PACKAGING
- OPEN TANK PROCESSING
- CLEANING & DEGREASING
- MANUFACTURING PROCESSES