Duct & Fans
(VCP & POLYPROPYLENE)


---
Duct
Duct is the arteries of fume extraction systems. They must be ultra smooth and corrosion resistant. Rigid uPVC provides most of the qualities needed up temperatures of 60o C. Polypropylene will accommodate temperatures up to 90o C.
Dynamic duct is constructed from quality rigid uPVC (or polypropylene where required) of the appropriate thickness [see chart]. Round or oval duct is heat formed and the seam fully welded with hot air welding equipment. Square and rectangular duct is heat bent at the corners and the seam/s are positioned away from the corners. Inside radius is equal to the material thickness. Seams are fully welded after dressing a V-type joint for maximum penetration of weld.
Bends, tees, transitions and other fittings are all heat formed and V joint welded using hot air welding equipment and triple welding rods. Larger sizes of polypropylene duct are extrusion welded.
Joining duct on site can be any or all of the following:
Flange joints. Flanges welded to the duct. Connections bolts are pitched at approx. 100 mm centres with S.S. bolts/nuts/washers. Joint sealed with non setting, acid proof gasket compound or appropriate neoprene type gasket.

Butt welded. To be continuously welded V joint.

Socket welded. Ducts to have to heat formed socket or PVC collar at one end. Next section of duct is inserted into the collar and continuously welded.

Solvent welded. Usually reserved for 150 mm diameter and smaller commercially available uPVC according to AS/NZS 7641 and AS/NZS 7649.
Splitters to be built into ducting and fully welded where required. Dampers - volume control butterfly or opposed blade dampers are all uPVC construction. Dampers marked open / closed. Blast dampers supplies where required. Flexible connections between fan and duct are flexible PVC or neoprene material which avoids the transmission of any minor fan vibrations and are so spaced to allow removal of fan easily without interference to the duct. Duct can be fiber glass protected when required for outside exposure. Usually a 2 mm layer with flow coat to match existing colours.
DUCT CONSTRUCTION SCHEDULE
Round / Oval mm
Rectangular (longside) mm
Thickness mm
Stiffners mm
Flanges mm
Up to 450
451 - 900
901 - 1200
1201 - 1500
1501 - 2200
Up to 450
451 - 760
761 - 1070
1071 - 1370
1371 - 1800
3
4.5
6
6
6
nil
nil
nil
40 x 6 every 600
50 x 6 " 450
25 x 4
40 x 6
40 x 8
40 x 8
50 x 10
---
Fans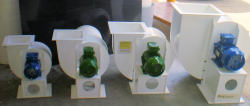 Fans
are the unseen heart of all that
DYNAMIC
does.
Fans
deliver the required amount of air at the right pressure, overcoming the various system resistances to extract the unwanted fumes, delivering through filters or scrubbers, if required, and discharging them to atmosphere at the required velocity for appropriate dispersion for the least harm.
DYNAMIC offers one of the largest ranges of corrosion resistant fans for the chemical and allied industries. Duty ranges from 50 L/s to 25,000 L/s at pressures from 25 Pa to 2,500 Pa.
Fan selection requires that all aspects of the system i.e. equipment pressures, losses due to length of duct and fittings etc., are factored in to the formulae for determining the correct fan for the job. Because our fans are normally part of an overall system, DYNAMIC will make a selection from our performance curves or using our computer fan selection programme, after accounting for all the relevant factors. We are happy to supply a fan only to meet specific requirements which are not necessarily part of a DYNAMIC system.
Construction from PVC, Polypropylene or KD high impact PVC Acrylic Alloy covers most industrial situations. PVC is suitable where temperatures do not exceed 60o. For higher temperatures, Polypropylene or Glass Reinforced Fibre casings are recommended. 12 months WARRANTY.
There are DYNAMIC casing designs for most applications:
The conventional centrifugal fan in all its arrangements, configurations and drives is by far the most popular because of the enormous variety of situations it can service. It provides a choice of impellers for high & low pressure / high & low volume. Forward or backward curved blades are selected for the specific application.

In-line centrifugal fans provide a good performance where space is a problem and an in-line situation is required with ready access to the motor. Our latest design minimises performance losses usually associated with this type of fan.

Bifurcated axial flow fans are fabricated for specific use providing an in-line axial flow fan that has the motor out of the air stream.

Regular axial flow for in-line situations in which the motor in the air stream is no problem.
The physical size of the fans is directly related to their performance and range from the size of a waste paper basket to over 3 meters high. Electric motors can range from 0.18 kW to 75 kW.